You don't have to be a teenager to know how frustrating, distressing, depressing and emotionally scarring facial acne can be. Adults too, can get very red, inflamed and painful pimples, bumps and blackheads. In fact, about a third of all acne patients seen by doctors are 25 years old or older.
What Causes Facial Acne?
Facial acne can be difficult to treat and can last for many years – even decades. Acne can be caused by several factors including hormonal, medications or genetic.
Hormones: Increasing levels of testosterone (found in both males and females) stimulate the oil-producing glands in the skin to enlarge and secrete more oil. Acne spots begin to form when the excess oil combines with dead skin cells to plug skin pores.
Medications: Acne can also be caused by some prescription medications such as birth control pills or other hormone treatments.
Genes: Those with a family history of severe acne are more likely to get acne at an earlier age and even develop severe acne.
With that being said, research shows that fluctuating hormone levels are the main cause of facial acne.
How to Treat Facial Acne
Some over-the-counter facial cleaners can include use harsh chemicals that can irritate the skin and worsen the acne. Strong cleansers, scrubbing and over-washing can remove the protective band of the skin called lipids. Lipids is a fatty substances which keep the skin moisturized.
Removing lipids from the outer layer of skin weakens this protective barrier. This cause the skin's immune system to trigger an "attack" response, causing redness, irritation and a worsening of acne.
Treat Stubborn Acne with HD Clear Facial Kit
The HD Clear Facial Kit is an advanced line of natural facial products. The collection kit combines CPTG Certified Pure Therapeutic Grade essential oils and plant extracts to help support smooth, clear skin.
HD Clear is a three-step system that includes a gentle foaming face wash, an essential oil blend and a facial lotion. This combination cleanses and purifies the skin, provides optimal hydration for a balanced moisture level, helps reduce the appearance of blemishes, soothes the irritation of distressed skin and promotes a clear, healthy-looking complexion.
Read the customer testimonial from Leann Dick below: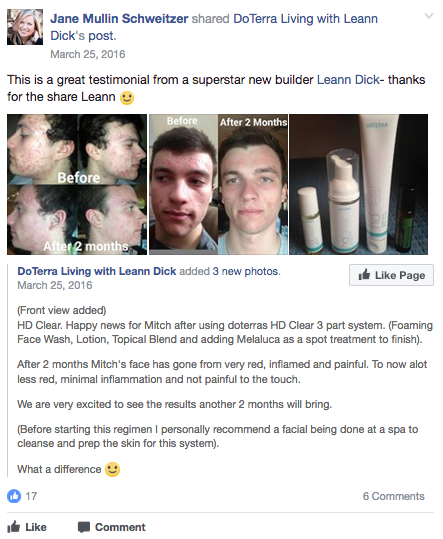 Happy news for Mitch after using doterras HD Clear 3 part system. (Foaming Face Wash, Lotion, Topical Blend and adding Melaluca as a spot treatment to finish).
After 2 months Mitch's face has gone from very red, inflamed and painful. To now alot less red, minimal inflammation and not painful to the touch.
We are very excited to see the results another 2 months will bring.
(Before starting this regimen I personally recommend a facial being done at a spa to cleanse and prep the skin for this system).
What a difference!
A Gentle, Natural Skincare Remedy
Made with pure plant extracts, the ingredients in HD Clear Facial Kit are gentle and calming to the skin, but powerfully effective.
Using gentle cleansers, warm water and rinsing the skin after cleansing is all that is required to clean the skin properly – and will minimize skin irritation.
HD Clear Facial Kit provides a natural solution for treating facial acne.
Do you have experience with stubborn acne? Comment below with your story or subscribe to our newsletter to learn more about the benefits of using essential oils.